Welcome to part two of my review of Nuts.com; to read my first review of Butternut Peanuts and gain some insight on my feelings towards their site, click here. This entry is about French Burnt Peanuts, 1 LB @ 4.29 USD.
Disclaimer: (If you haven't caught on yet – these are NOT 100% happy reviews) I do not receive any reward except your views on this post.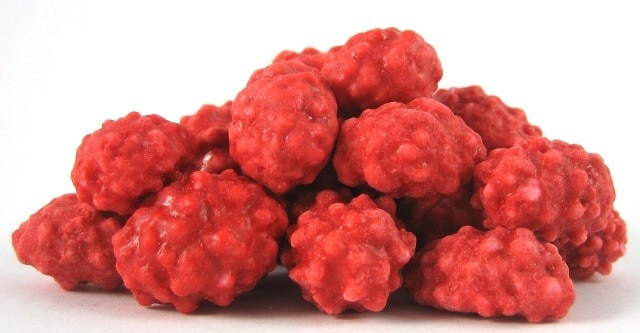 These French burnt peanuts used to be sold by the scoopful at the corner candy store, but now they are a bit harder to find. Delicious, fresh Spanish peanuts, covered in a crunchy candy shell. A favorite of dads and grandpa's everywhere! These prickly sweet and slightly salty candy coated peanuts are an old-time favorite. – Description from website
Nutrition Facts
Serving size 40g (~1.4 oz.)
Amount per serving
Calories
180
Calories from Fat
60
%DV
Total Fat
6g
10%
Saturated Fat
1g
4%
Cholesterol
0mg
0%
Sodium
160mg
7%
Total Carbohydrate
30g
10%
Dietary Fiber
1g
4%
Sugars
27g
Protein
3g
| | |
| --- | --- |
| Vitamin A | 0% |
| Vitamin C | 0% |
| Calcium | 0% |
| Iron | 2% |
This item is another piece of childhood nostalgia. When I was a kid there were only 2 stores I would allow myself into; my neighborhood didn't have many things but we did have a corner store that turned later into a bodega. In one section were these dollar bags of candies like 'Mary Janes', 'Wax plastic juices' (More wax than juice), Circus Peanuts, Pixi Sticks and then these lovely peanuts called Beer nuts.
Do not assume 'French Burnt Peanuts' are Beer nuts. DO.NOT.ASSUME.
I admit they tasted similar but I haven't eaten beer nuts for a good year or more- Definitely more than a year – So I can't compare those two tastes. I can judge these nuts though and I'm giving them a 6.5 – 7/10 rating.
Flavor wise, these really are delicious; my mouth enjoyed the texture. I don't recall if any French Burnt nuts I ate in the past used tapioca in their recipe but I know they weren't heavy handed with the red dye. Here it comes readers, the TMI moment; After eating I think 1/4th a pound by myself it took a while to realize my mouth was red. Not only that – when I finally went to the bathroom so was whatever came out; no not urine, the other one. Also the method used for coating, their sugar panning – it makes the nut REALLY hard. My teeth aren't strong like 'MABIBBLE' but after 10 nuts my jaw and molars began to hurt.
Actually they STILL hurt and its been two days after eating; so if you have a calcium deficiency or something's up with your teeth – don't chance eating these. They are borderline jawbreakers. Oral health is more important than delichious nomz. 'MABIBBLE' loved these but later pointed out some nuts tasted different than others, they had a slightly off taste that I associate with milk.
That will happen regardless – Have you honestly eaten a bag of nuts and not gotten one that just tasted awful even if they were plain?
'MABIBBLE' called me up complaining about 'red potty time only belonging to women'. Of course I said something disgusting as a follow-up, you don't need to know what that was.
Thanks for reading,
– Bad touch Bear